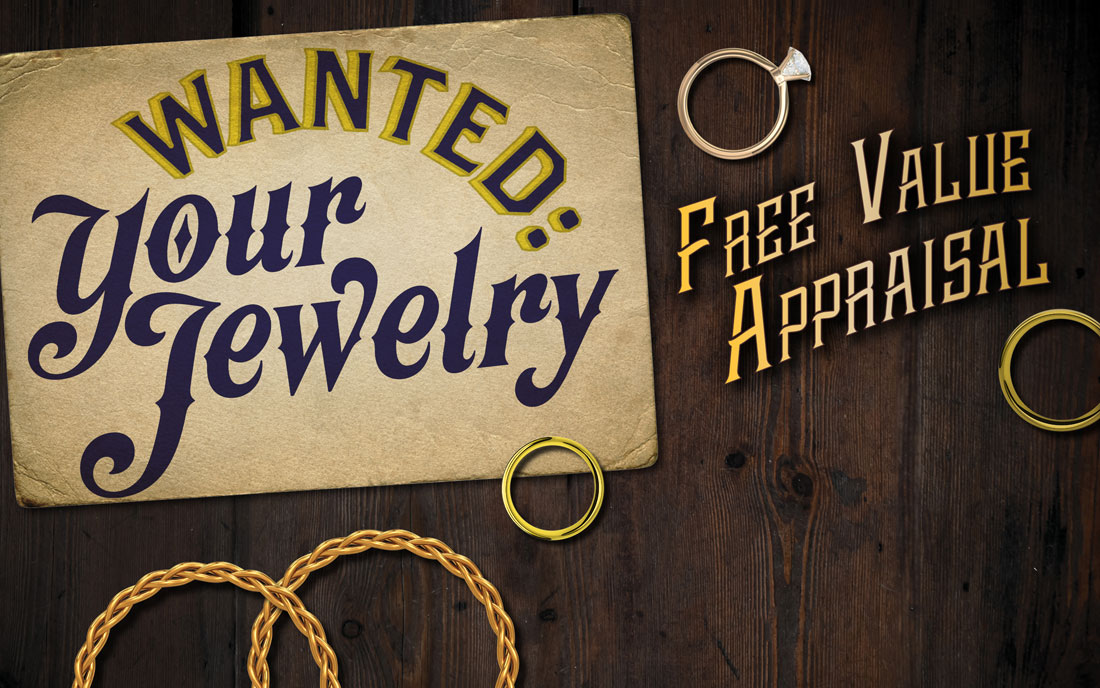 We Want Your Jewelry
Could you use some extra cash? Do you have jewelry that you don't wear or don't want anymore? Convert your jewelry into cash by selling to the best jewelry buyer in Sacramento. We have been buying jewelry for over 25 years and have built our reputation on paying the most and treating our clients with respect.
With the volatile gold market, it's impossible to know what your jewelry may be worth in the future. So, don't let it collect dust in the closet. Come in today, and we'll pay top dollar for your jewelry so you can: take that vacation, get that new camera, pay off that credit card, or save up for a rainy day.
Our "Most Wanted" List
We buy almost any fine jewelry (even if it's broken), but sometimes, it helps to know what specific items we are looking for. Here is our top 10 most wanted list. If you have jewelry on this list, we want it.
Diamond Engagement Rings
Gold Men's Rings
14k or 18k Gold Chains
Diamond Stud Earrings
Vintage Style Estate Jewelry (Art Deco, Art Nouveau, Edwardian, Victorian, more)
Gold or Platinum Wedding Bands
Antique gold or platinum jewelry (from the 1920s and earlier)
Full jewelry estates (we'll help you sort the jewelry and give you an offer for the whole estate or only a few pieces, it's up to you)
Gold nuggets
Loose diamonds, rubies, sapphires, and emeralds
How much is my jewelry worth?
When you are thinking about selling jewelry, this is the first question on your mind. Unfortunately, answering it is not always easy. It's fairly simple to find the market value for commodity items like electronics or clothing, but jewelry is much more complicated.
That's why we offer our free value appraisal service. Just bring in your jewelry, and our gemologist jewelry buyers will let you know what it's made out of and how much it would be worth to sell to a jeweler like us or online through craigslist or eBay. There's no obligation and no pressure to sell. If you do decide to sell, we'll give you cash on the spot.
So what are you waiting for? Come by today for your free value appraisal!
Still not convinced? Checkout the testimonials below to hear from some of our past clients. Or, watch the video above to see how much more we were able to pay KCRA 3 for their jewelry.
"Offered highest price / evaluations in the area! I went to three stores before this one. Not one explained what metals where in my jewelry, how many carats / karats were in my jewelry, and how the price was calculated. They did that and more. They were open, honest, and down to earth."
Arden Jewelers is AWESOME! They offered me a way better deal than the other place across the street. Understood my story about leaving my deadbeat husband and needing a good amount to hire a divorce attorney. Angelo is the greatest, love him. Best place to sell your jewelry after a divorce.

I went to a gold party and got offered $160. Arden Jewelers paid me $460. Also at the Gold party I felt shuffled around, but at Arden Jewelers I was treated professionally.

I got this flyer that said there would be gold buyers for 5 days at the Holiday Inn hotel, and that they paid the highest prices. So I brought in my Jewelry and they offered me $300. Arden Jewelers paid me $650. The hotel guys were paying so low because they were just after my gold and were paying nothing for the diamonds!

I went to the coin show on Saturday. The guy tested my jewelry with Acid and filed the lens off of my charm. When I said "WHAT ARE YOU DOING!?" He said "you are just going to scrap it." I just wanted a price and he ruined my pendant and made it un-wearable. Make sure they won't break your jewelry when you just want a price. Arden Jewelers people are Gemologists and they don't do destructive tests. In other words they won't mess up your jewelry just to give you a price.

From Yelp.com: I have sold a couple of gold rings and one small diamond ring. I got better money here than I was offered at other shops. They have good measuring and testing equipment. This is important!!!

Dan offered me $250 I went down the street to get a quote from another jeweler and they only offered $175. I came right back to Arden Jewelers. My experience was great! Great service and honest business. Thank you!

From KCRA A-List: I've never been more impressed by the honesty of a jeweler!

My ring had a lovely star sapphire in it. When I took it to another jeweler they told me the stone was fake and offered me $400. So I took it over to Arden Jewelers and they paid $650 which was the highest price by far. They knew the value of the star sapphire and paid me a very fair price in cash. Thanks Arden Jewelers.

From Yelp.com: I was nervous about selling my gold. I went to a few of the cash for gold places and found some pretty shady! Arden Jewelers is amazing. The Jewelry store is nice place and the gentleman that helped me made me feel entirely comfortable. The gemologist jewelry buyer explained the whole process and he me understand how jewelry gets its value. Plus, they gave me $340 more than any other place offered. These guys are the best. I am so pleased to have found Arden Jewelers.