Trusted Jewelry Repair
Experienced Jewelers, Professional Equipment, Quality Workmanship
Arden Jewelers has decades of experience doing jewelry repair right here in Sacramento, CA
At Arden Jewelers, we understand how important your jewelry is to you. When your jewelry breaks, doesn't fit right, or just doesn't look like it used to, we are here to help. Our jewelry repair team has decades of years of experience working on everything from $100,000 diamond rings to simple gold bands. Here's a short list of the kinds of repairs that we offer at competitive prices. Same day turnaround is available for some services (please call ahead to confirm availability).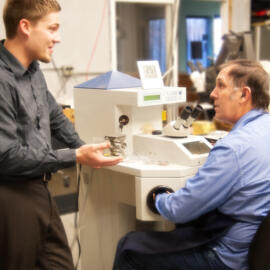 Ring sizing
Laser repair work – we can fix jewelry that was unfixable before!
Fixing breaks in rings, necklaces, bracelets, earrings, and just about anything else that's broken
Cleaning and refurbishing jewelry to look like new
Soldering rings together
Stop rings from rotating on your finger
Stone setting of all kinds
Start to finish custom jewelry design
Tightening loose gems that are in danger of falling out
Converting earrings to pierced or clip backs (or visa-versa)
Rhodium plating and gold plating
And much, much more…
Not sure if your jewelry needs to be repaired?
No problem, just stop by for a FREE jewelry check up. We'll take a look at your jewelry and use our years of experience to let you know if there are any problems with it. We have had customers come in who thought their jewelry was in good shape, when really, gems were dangerously close to falling out. We don't want this to happen to you, so come on by for a free jewelry check up. We'll let you know how your jewelry is doing, even if you didn't get it from us. You can also read some more about jewelry check ups on our blog.
Jewelry Repair Before & After
A picture can be worth 1,000 words. Checkout some of our repair work right here to get an idea of what we're capable of.
Still have questions?
Checkout some of our online jewelry repair resources. You can read the Jewelry Repair FAQ, or our in-depth article on using a laser in jewelry repair. Rest assured that our team of jewelry repair experts has decades of combined experience. Whether you need us to resize a ring, or set a priceless diamond, we'll treat you and your jewelry with the respect you deserve. We consider it a privilege to work on your jewelry, and we appreciate the trust that you place in us when you give us your jewelry to be repaired.