Presentation Engagement Ring
Why you should consider proposing with a temporary presentation ring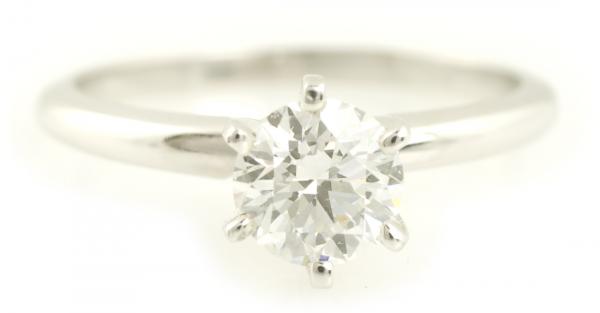 What is a presentation engagement ring? A presentation engagement ring is simply a solitaire setting with a diamond set in it. The presentation ring program is designed, so you can give your bride-to-be the simple presentation ring and then come back into the store and get the exact engagement ring she wants without any hassle. Here's how it works:
Pick out the diamond. If you know a general shape and size, that helps, but it is not needed. Next, we set it in a four or six prong solitaire (Tiffany style) setting. It can be in 14 karat white or yellow gold.
Propose with the presentation ring.
Come back with your new fiancée, and pick out the ring style she wants. We charge a small amount for the presentation ring, and, if you bought the main diamond from us, when you bring the ring back, we give you that full amount back. If she does not like the size or shape of the diamond you bought here, exchange it for full credit toward another diamond, no stress.
Using a presentation ring solves three problems for you at no cost. First, this solves the problem of the surprise. You don't have to ask her what style of engagement ring she likes, or even her ring size (it's ok if the temporary presentation ring doesn't fit perfectly). You don't have to ask her family or friends what she likes and risk them spilling the beans.
You get the presentation engagement ring and find the best way to surprise her. She will not see it coming and it will be a lifelong story.
The second problem the Arden Jewelers' presentation engagement ring solves is that you don't know what she wants. You don't want to buy the wrong ring. Now you can surprise her and she can come back and get the ring she loves.
Lady's engagement ring designs are amazingly varied. One look at the different styles on our website can give a small hint of just how many options there are. The presentation engagement ring takes the pressure of getting it exactly right out of the equation and lets you focus on other things.
The third problem solved is the problem of price. How to keep the engagement ring in budget? The main diamond on engagement rings can range from 60% to 99% of the total cost of the ring. The average is around 80%. By giving her a presentation engagement ring with the diamond already chosen, you can seamlessly set the budget while still allowing her to choose the ring style she really wants.
With a temporary or presentation ring you don't have to worry about getting the style exactly right or ruining the surprise. So, what are you waiting for? No more excuses, come in today, get your presentation ring, and get ready to pop the question.