Cash for Gold vs. Cash for Jewelry
Sell your jewelry for what it's really worth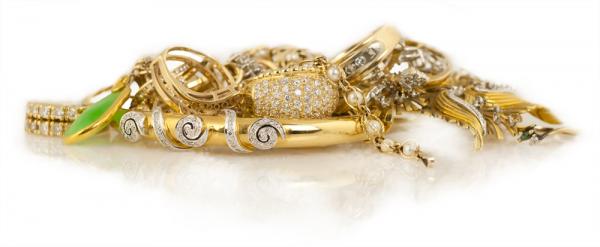 We hear ads on TV all the time about "CASH for Gold." We see ads all over the internet offering "CASH for Gold." Our email inboxes are filled with spam for "CASH for Gold." But, chances are you don't have solid gold bricks laying around that you want to convert to cash. You have jewelry for sale. Is there a difference between "Cash for Gold" and "Cash for Jewelry?" Don't the Cash for Gold companies factor in the diamonds and gemstones? I saw a news report where one of the more famous Cash for Gold company said they pay from 20% of the gold value. That means, if the gold value is $100 they will offer $20, often times regardless of the value of the gemstones. That, in a nut shell, is how Cash for Gold works.
Cash for Jewelry, on the other hand, only starts with the metal value (i.e. the gold, silver, or platinum), and then looks at the jewelry as a piece of fashion. Estate jewelry can be worth many times the gold value because of its exquisite design or history. The next step is to evaluate the gems that are set in the jewelry. Cash for Gold companies just pay for the gold, not the gems or diamonds. Over the 2 decades I've spent buying jewelry form the public, I have heard horror stories of people being ripped off. One comes to mind about a lady who was paid $50 for a ring that had a one carat H color VS clarity diamond in it. The diamond alone was worth $2,500 to $5,000. She was given a fair Cash for Gold price of 80% for the gold, but nothing for the diamond.
At Arden Jewelers, we believe in the Cash for Jewelry system. Our jewelry buyers are gemologist trained. That means, they can accurately and consistently evaluate how much diamonds and gemstones are worth when they are buying. And even better for you, our buyers have years of experience buying from jewelry wholesales, so they know a good jewelry style when they see one. That means you can get many times the gold value when you sell your jewelry to Arden Jewelers' jewelry buyers.
Curious how much you could get? Come by for a free value assessment.