Groundbreaking New Designs
See Great New Custom Jewelry Pieces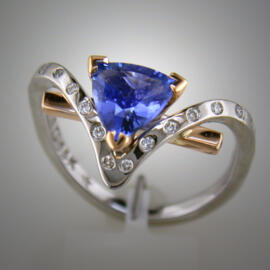 Arden Jeweler's custom design specialist and jewelry CAD artist Angelo Parisi has been producing some cutting edge designs lately that we just had to share with you. Angelo was inspired by the displays he saw while walking the JCK Jewelry Show, and he has taken some of the gems he purchased there and turned them into world class designs. We don't have space here to show you all of the new designs that Angelo has produced, but you can check them out at our design gallery.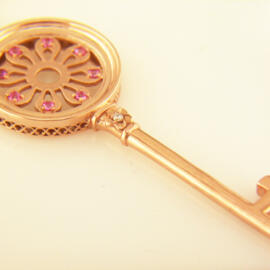 For those of you who don't know, Angelo has been using state-of-the-art jewelry design and manufacturing technology to produce custom designs for Arden Jeweler's customers for several years now. He designs the jewelry in a 3D virtual reality environment, and then produces photo-realistic renders of the piece for people to see before it actually produced. Then, our rapid prototyping machine literally grows a wax model of piece one microscopic droplet at a time for incredible accuracy and fidelity to the computer model. Then all that remains is to cast the wax model in the metal that the customer desires, and set the gems.
If you want to see more of Angelo's designs, please visit our custom design gallery.
Or, if you're interested in learning more about the custom design process, you can checkout our main custom jewelry design page.