Jewelry basics are like DNA. They are the building blocks but they create a great diversity of looks. Diamonds gemstones, chains, pendants, pins and even earring should be displayed differently to produce your style. What is your style? Having the right jewelry can go a long way in helping you project an image of confidence and individual flair.
Developing your own style means "knowing yourself"
Jewelry basics can be used with other pieces or as an accent to the main display jewelry. The rule of thumb is to always have the best-quality basics you can afford, so you can add matching pieces later. In gold jewelry, such basics should include a gold chain necklace, classic hoop and a link bracelet. Additions could include slide-on pendants or drops to create different looks with your necklace and earrings. In diamond jewelry, classic stud earrings or a solitaire pendant should be among your first purchases.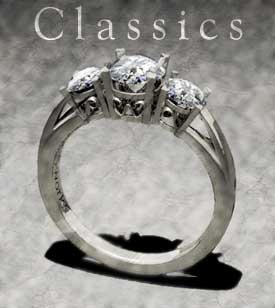 And don't overlook the importance of selecting jewelry that suits your body type. For instance, your height and bone structure plays a big role in determining the kind of jewelry that looks best on you. A smaller, petite woman would be better served with necklace lengths that fall below the breast but above the waist to elongate her figure. Meanwhile, a tall, thin woman may want to select a choker that cuts the line of the neck and de-emphasizes her height. And a full-figured woman should stay away from jewelry that's too small or delicate.
Equally important to style are face shapes. Oval, round, rectangular and heart-shaped are the four basic face shapes. Experts explain that if your face is oval, triangular-shaped earrings are especially flattering. A round shape should seek elongated, dangling styles that draw the eyes down, rather than around. For a rectangular face, try jewelry that adds width, camouflaging the length of the face. And for heart-shaped faces, look for earrings that are wider at the bottom, because style can soften a pointed chin look.
And don't forget to consider your hand type if you're purchasing rings. If you're long-fingered, wider bands will look especially good on you. If you're short-fingered, thinner bands and stone shapes such as marquise or pear that elongate the hand would be a good choice.
Developing your own style means "knowing yourself": what you like and dislike. To determine this, ask yourself "What do I think is beautiful jewelry?" and "What turns my head?" Decide if that means contemporary or classic jewelry styles; streamlined or detailed; colored stones or white diamonds. Also, listen to style-related comments from others. Use jewelry to enhance your style, not take away from it. Jewelry is one strong means of self-expression; use it to your advantage.